Can a Career Evaluation help me get a JOB?
Yes! Whether you are seeking entry-level employment or if you're a seasoned professional, you will benefit from the job-matching power of a Career Evaluation. The evaluation increases confidence about career direction and reveals new horizons, describing how an individual matches job requirements. It makes a winning addition to your interviewing portfolio. It effectively reinforces qualifications on a resume. The employer sees required skills substantiated.
---
Behavioral Assessment and Report
Behavioral Assessments identify communication styles, behavioral tendencies and personality traits. Individuals become improved team players, deal with stress better and recognize steps to achieve their best.
How do I benefit from a Behavioral Assessment?
Self-awareness is a way for you to explore your individual personalities, natural inclinations and tendencies, and even your biggest fears. Because we are all different in the way we react to things, learn, and synthesize information, it's helpful to occasionally spend time in self-reflection to gain a better insight into yourself.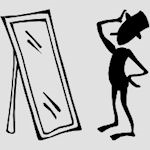 Self-Awareness is important because when you have a better understanding of yourself, you are empowered to make changes and to build on your areas of strength as well as identify areas where you would like to make improvements. Self-awareness is often a first step to goal setting. Self-awareness is often a step in understanding others. Self-awareness is a step in self-improvement. Self-awareness is important in career selection, the job search strategy, the interview process, joining a new team, career advancement, career happiness and ultimate career success. Success is not only achieved in your professional life, but self-awareness leads to success in social and personal relationships too.
With your personalized report, you can easily learn how to articulate your natural strengths, maximize the benefits of your personal traits, and use what you learn about your traits to build rapport, develop effective relationships, improve interviewing skills, adapt to a new team, and more.